Finally, you can paint your first masterpiece with no previous painting skills, our paint by numbers kits provide you with everything you need to start painting, it features real canvases with detailed line art to fill in, you just have to paint the areas on the canvas with it the correspondent number on the paint containers and without knowing it you will create a meaningful present to offer to your loved ones.
1x Numbered acrylic paint set (About 24 different colors, depending on the painting).
1x Numbered high-quality linen canvas.
Reference paper and a copy paper of the canvas.
1x set of 3 paint brushes (1x small, 1x medium, 1x large).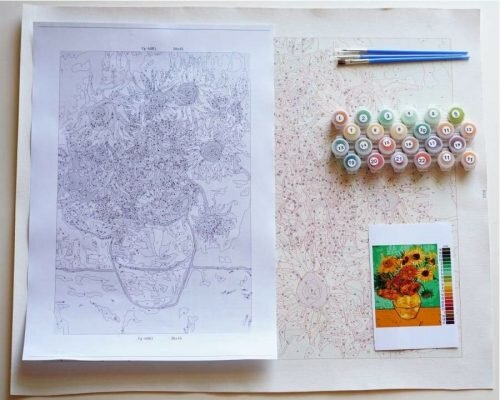 Perfect Gift: Might be a mother's day or the birthday of a best friend, these adult paint by number are an awesome gift idea.
For All Ages: This interesting paint by numbers is suitable for anyone who wishes to try their hand at art! They can be kids, teens, adults, and the elderly.
Relaxing and Joyful: Drawing with Paint By Numbers could be very amusing and joyful. The pleasure of creating a stunning work of art is beyond description. It will help you to relax and decrease stress in your leisure time.
Step 1: Prepare your canvas Paint By Numbers by Laying your acrylic canvas out on a flat surface. Organize your paint and apply base layers.

Step 2:

Match the numbers on the reference paper with their corresponding number on the pre-printed canvas, so you can mark the number on the paint container.
start painting your first masterpiece.

Step 3: Stand Back and stare proudly at your creation. Feel free to share your masterpiece on social media with your friends.